Contact us

: 0086-021-60880117
:
: Royal Industry
Related products : SPHE steel , SPHD steel , SPHT1 steel , SPHT2 steel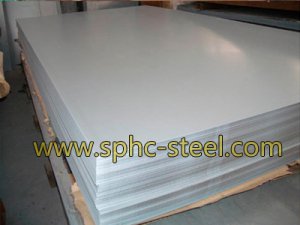 SPHC as cold-rolled steel stamping materials, requiring good press formability, tensile and flexural properties and low yield strength, mainly by controlling the AlN solid solution and precipitation during hot rolling, and recrystallization in subsequent annealing process development for γ fiber texture (111∥ND) so as to get good press performance. Different annealing process, the hot rolling process is also different for batch annealing, the "three high and one low" temperature system for continuous annealing, then take the low-temperature heating, high-temperature and high-temperature finish rolling coiling process system.
SPHC steel sheet chemical composition :
| | | | | | | |
| --- | --- | --- | --- | --- | --- | --- |
| Grade | C | Si | Mn | P | S | Alt |
| SPHC | ≤0.15 | ≤0.05 | ≤0.60 | ≤0.035 | ≤0.035 | ≥0.010 |
SPHC size range
tensile strengthσ b≤700MPa
Yield Strengthδs≤600MPa
Thickness :1.0~6.0mm
Width :700~1650mm
Weight :≤38.64 Ton
ID:610mm,760mm
SPCC steel delivery status
Generally hot-rolled (including controlled rolling) state delivery. According to the requirements, by mutual agreement, to be normalized delivery.
SPHC Features
1, reduce costs, instead of cold-rolled plate pickling plate, cost savings for the enterprise.
2, good surface quality, compared with ordinary hot-rolled plate, hot-rolled pickled plate removes surface scale, improve the surface quality of steel, easy welding, oiled and painted.
3, high dimensional accuracy, after formation, can make certain changes occur plate, thereby reducing unevenness deviation.
4, to improve the surface finish and enhanced appearance.
SPHC steel Key Features
SPHC has high ductility, toughness and weldability, good pressure processing performance, but low intensity.
SPHC steel application :
SPHC high strength, good toughness, easy processing molding and good weldability and excellent performance, which is widely used in the automotive industry, machinery industry (excluding motor vehicles) including textile machinery, mining machinery, general machinery as well as some fans, light industrial electronics, bicycle parts, all kinds of pipe, electrical cabinets, highway guardrail, supermarket shelves, storage shelves, fence, iron ladder and stamping parts of various shapes.
Shanghai Royal Industry Will return you with high-quality products and complete after-sale service with the lowest price. we committed to exceed customer's expectation on the basis of quality, price, and delivery. We sincerely hope to establish long-term cooperation relationship with you on the basis of mutual benefit, reciprocity and common development. As SPHC Mechanical and SPHC suppliers, we can supply SPHC Chemical, SPHC Mechanical and SPHC standard for you ,please contact us :info@sg295steel.com