Contact us

: 0086-021-60880117
:
: Royal Industry
Related products : St37-2 steel , St37-3 steel , ST44-2 steel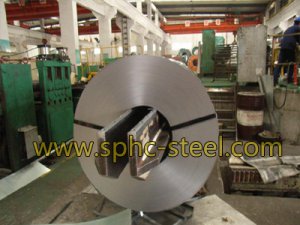 DIN17100 St52-3 is mainly used for civilian construction and underground engineering, bridge structures, marine structures, container manufacturing and automotive and machine manufacturing.
Main chemical composition in DIN17100 St52-3 steel : Silicium max 0.55, Manganese max 1.60, Phosphorus max 0.045,Sulphur max 0.045. More detailed information, please refer to the flowing table:
Chemical elements

C≤ 16mm
max

C>16mm
max

Si
max

Mn
max

P
max.

S
max.

%,by mass

0.24

0.24

0.55

1.60

0.045

0.045
DIN17100 St52-3 steel plate/sheet Mechanical Properties
thickness

Yield StrengthReH[N/mm2]
transv.min.

TensileStrengthRm[N/mm2]transv.

Fracture Elongation[%]transv. min.

Notch Impact
Energy1)Ch Vcomplete samplelongitud. min [J]

t≤ 16mm
t >16mm

355
345

20 degree
27J

t < 3mm
t ≥ 3mm

510-680
490-630

Up to 1.5mm
1.51-2.00mm
2.01-2.50mm
2.51-2.99mm
≥ 3mm

13
14
15
16
20
ST52-3 steels is a low alloy, high strength structural steel which can be readily welded to other weldable steel. ST52-3 steel's Mechanical properties is Yield strength more than 355 MPa, tensile strength 490-630Mpa.
Shanghai Royal Industry Will return you with high-quality products and complete after-sale service with the lowest price. we committed to exceed customer's expectation on the basis of quality, price, and delivery. We sincerely hope to establish long-term cooperation relationship with you on the basis of mutual benefit, reciprocity and common development. As St52-3 Mechanical and St52-3 suppliers, we can supply St52-3 Chemical, St52-3 Mechanical and St52-3 standard for you ,please contact us :info@sg295steel.com